PRODUCT OF THE MONTH: Equip Your Malnourished Patients From Within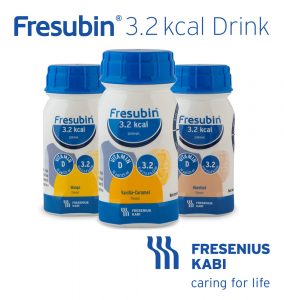 Fresubin 3.2 kcal Drink was voted CN New Product of the Year 2019, by the readers of CN magazine.
It is the most energy dense (3.2 kcal/ml) 125ml oral nutritional supplement (ONS) available1; containing 20g of protein per bottle (20% energy from protein) of a unique protein blend of collagen hydrolysate and milk protein; and contains 100% of the RNI for Vitamin D.
Provides:
Minimum calorie requirements for ONS of 400 kcal as recommended in the ESPEN guidelines 20182 in one bottle
A protein source that helps to rebuild muscle tissue3, improves wound healing time4, and improves body composition and muscle strength when combined with resistance exercise in sarcopenic patients5
An adequate intake of Vitamin D, helping to prevent falls6
Fresubin 3.2 kcal Drink is available in Mango, Vanilla-Caramel and Hazelnut flavours. 100% of patients gave a positive response to taste7.
Fresubin 3.2 kcal offers a combination of features associated with a high level of patient compliance8, including high energy density (3.2 kcal/ml), low volume (125ml), palatability and a ready to drink presentation.
To order samples and discover more, visit: www.fresenius-kabi.com/gb
For expert information and advice call Fresenius Kabi on 01928 533 516 or email scientific.affairsUK@fresenius-kabi.com.
1. MIMS Online April 2020 2. Volkert D et al. Clin. Nutr. June 2018 SO261-5614(18)30210-3 3. Witard OC et al. Nutrients 2016;8(4):181 4. Lee SK et al. Adv Skin Wound Care. 2006;19(2):92-96 5. Zdzieblik D et al. Br. J. Nutr. 2015;114(8):1237-1245 6. SCAN. Vitamin D and health 2016 7. UK Palatability Report 2017. Data on file 8. Nieuwenhuizen WF et al. Clin Nutr. 2010;29(2):160-9
Job code: EN01846. Date of Preparation: April 2020.