PRODUCT OF THE MONTH: Fortisip Compact Protein offers nutritional support at every stage of recovery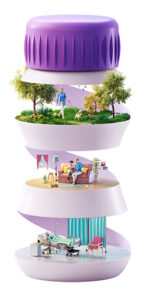 Fortisip Compact Protein is the only high energy 2.4kcal/ml, high protein compact ONS* available** – providing 24% energy from protein with compliance of 90%.1 High protein ONS are demonstrated to deliver positive clinical outcomes for patients and the healthcare economy,1,2 giving you reassurance that your ONS recommendation is making a difference.
On top of that, Fortisip Compact Protein is available in 9 tasty flavours with specific warming and cooling sensations appreciated in patients with taste alterations, such as those living with cancer.3 Addressing the needs of taste alterations in cancer through creating sensations could help with compliance.
Click here to find out more about the benefits of Fortisip Compact Protein.
*Oral Nutritional Supplement
** Accurate in MIMs, December 2022
References: 1. Brown F et al. J Nutr Health Aging 2020; https://doi.org/10.1007/s12603-020-1331-6 [Accessed December 2022] 2. Cawood AL et al. Ageing Res Rev 2012; 11: 278–96. 3. de Haan et al. Support Care Cancer. 2021. https://doi.org/10.1007/s00520-021-06049-4
This information is intended for Healthcare Professionals Only
Fortisip Compact Protein is a Food for Special Medical Purposes for the dietary management of disease related malnutrition and must be used under medical supervision.
Accurate at time of preparation: December 2022.