PRODUCT OF THE MONTH: HyFiber – 12g fibre in each 30ml shot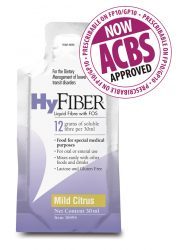 HyFIBER is a unique low volume, water-thin, liquid high fibre supplement that contains 12g soluble fibre in each 30ml sachet.
Designed for the dietary management of bowel transit disorders and presented in a mild citrus flavour, HyFIBER is ready-to-use and can be administered via an enteral feeding tube, or taken orally without the need for pre-mixing.
HyFiber has been identified by many dietitians as a great way of increasing and tailoring the amount of fibre a patient receives, as it can be used effectively alongside any enteral feed, used with supplements, or given as part of a food first approach.
Request more information/a visit: If you would like more information about HyFIBER, would like to receive samples, or would like to arrange a virtual meeting with one of the team, please visit: www.nutrinovo.com; email: info@nutrinovo.com; or call us on: +44 (0) 1249 691301.