PRODUCT OF THE MONTH: The Fortisip Range is Growing. Introducing NEW Fortisip PlantBased 1.5kcal.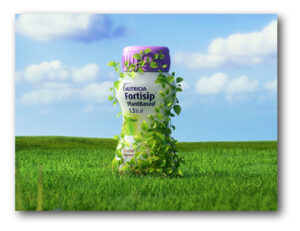 With the growing interest in plant-based diets, Nutricia are proud to introduce the first vegan, ready-to-drink, oral nutritional supplement1. Fortisip PlantBased 1.5kcal is available now, in two delicious flavours – Mango Passionfruit and Mocha2.
Fortisip PlantBased 1.5kcal contains
300kcal
12g plant protein per 200ml.

Made with Pea and Soy proteins

Is suitable for

Vegans
Lactose-free*
Gluten-free
Halal**
KosherƗ
Explore more at nutricia.co.uk/Fortisip-PlantBased

1. MIMS May 2023
2. Flavours liked and selected by healthy adults (83), data on file
* Lactose level below 300mg/kg
** Certified by the Halal Food Council of Europe
Ɨ Nutricia has Kosher approval for this product
This information is intended for Healthcare Professionals only.
Fortisip PlantBased 1.5kcal is a Food for Special Medical Purposes for the dietary management of disease related malnutrition and must be used under medical supervision.