PRODUCT OF THE MONTH: Made For You Softer Foods Frozen Ready Meals Suitable for Patients with Dysphagia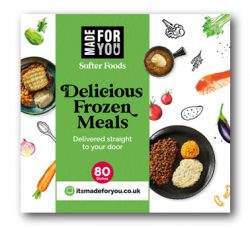 Here at Made For You Softer Foods, we believe that everyone should look forward to a tasty, nutritionally balanced meal. That's why we have created Made For You Softer Foods.
Made For You Softer Foods from Oakhouse Foods is a softer foods range of frozen ready meals suitable for people with dysphagia. We offer a wide range of meals, that are beautifully shaped and made with quality ingredients to provide a nutritious and satisfying meal, suitable for people who experience chewing or swallowing difficulties known as dysphagia.
The Made For You range includes 80 dishes to choose from including chicken, beef, lamb, fish and vegetarian recipes. We also offer a tasty selection of lighter bites, desserts, and breakfast options as well as mini meals for those with smaller appetites.
All our meals have been prepared in line with the IDDSI Framework and are suitable for the following levels:
Level 4 Puréed diet
Level 5 Minced and Moist diet
Level 6 Soft and Bite-Sized diet
This means all our meals are safe and compliant with the IDDSI level that has been advised by a speech and language therapist.
At Made For You, we offer a delivery service that cares, making it easy and convenient for our customers to eat delicious meals which can be delivered directly and safely to their homes. This helps them if they cannot leave the house or go to the shops. Plus, people love to use our service, as they can rely on a regular delivery of good quality meals, directly to their door, by their friendly local Oakhouse Foods delivery drivers.
Find out more at itsmadeforyou.co.uk or call 0333 433 0509.