PRODUCT OF THE MONTH: ProSource TF Plant Gains Vegan Approval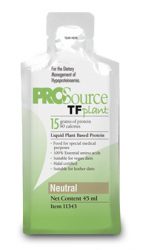 ProSource TF Plant, the completely plant-based version of ProSource TF, has now been certified by The Vegan Society. This means that you can use ProSource TF Plant to provide additional protein to both vegan and vegetarian patients, with complete peace of mind.
Vegan Suitable – Launched in July 2020 and developed in response to growing calls from UK dietitians for plant-based supplements, ProSource TF Plant provides a high-quality, modular protein which meets these needs.
Allergen Free – ProSource TF Plant is allergen free, making it suitable for a wide range of diets. As such, ProSource TF Plant alleviates many of the barriers previously found when feeding enterally fed patients with specific dietary requirements.
High Quality Pea Protein – Containing 15 grams of high biological value hydrolysed pea protein in each 45ml sachet, ProSource TF Plant contains ALL the essential amino acids, at levels you would expect from a ProSource product. Furthermore, the product contains low levels of electrolytes, supporting specific patient groups such as those with renal issues.
Easy to administer – The presentation of the easy to open sterile sachet, coupled with its water-like consistency, makes ProSource TF Plant easy to administer, whilst assisting with infection control.
If you would like to try ProSource TF Plant with your patients, you can request a FREE sample pack and information via nutrinovo.com