PRODUCT OF THE MONTH: ProSource TF Plant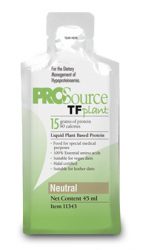 Nutrinovo are delighted to announce the launch of ProSource TF Plant, a unique plant-based version of the UK's number one liquid protein for enteral feeding, ProSource TF.
Containing 15g protein in each 45ml sachet, ProSource TF Plant uses high biological value pea protein to provide a product that is water-thin and contains all essential amino acids at levels you would expect from a ProSource product. This means that you can use ProSource TF Plant as a key part of supporting your enterally fed patients without compromise.
Using pea protein in place of collagen means that ProSource TF Plant is ideal for patients who either need or wish to follow a vegan or vegetarian diet. Furthermore, TF Plant is halal certified and suitable for kosher diets too.
Request more information and free samples
If you would like more information about ProSource TF Plant or would like to receive free samples, please visit www.nutrinovo.com; email info@nutrinovo.com; or call us on 01249 691301.