Renapro® Shot … approved for EFFORT trial
Renapro® Shot has been approved for use in the EFFORT trial, which is looking at survival rates and recovery in critically ill patients randomised to higher protein dosing ≥2.2 g/kg/day or Usual Care group ≤1.2 g/kg/day.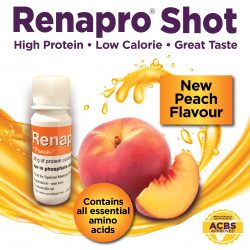 The attractiveness of Renapro® Shot is in the simplicity of being able to administer one shot of 20g protein from a standard 60ml enteral syringe. This high dosing (low calorie) regime is an important consideration given how much protein an individual patient could require. Renapro® Shot can potentially halve the number of doses required by the alternative modular protein available in the study. Both dietitians and nurses regularly comment on the convenience and the ease of administration with Renapro® Shots. Stanningley Pharma is pleased to be able to offer all participating centres some free product and some product on preferential terms.
Very rarely does "one size fit all", but on this occasion it does!
Renapro® Shot (peach) is both ideal for tube feeding and has an exceptionally good taste. It is now widely prescribed as an oral supplement for protein supplementation in liver disease, dialysis, burns, and post-surgery. This one product is highly suitable as a tube feed and for continuation as a very pleasant drink.
For more information or to request samples visit www.stanningleypharma.co.uk or email:  or call us on: 0115 9912 4253