Renapro® Shot … just gets better … 2020 news/updates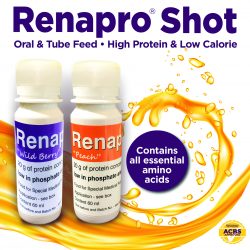 PASSION… for education is evident in Stanningley's support of nutrition conferences and the recent CN article "The role of modular protein supplements in Nutrition Support". L Rai CN. Sept 2020. www.stanningleypharma.co.uk/renapro-shot
PRODUCT… is high in protein (20g) low in calories (90kcal), low in volume (60ml), suitable for oral and enteral tube feeding. Both "wild berry" and "peach" flavours now contain all essential amino acids.
PALATABILITY… continues to drive the usage of Renapro® Shot. Typical feedback from a dietitian "the peach flavour is surprisingly palatable and getting 20g of protein in such a small volume is ideal for our patients."
PRODUCTIVITY… and ease of supplement use is vital for busy nurses giving tube feeds. "Renapro® Shot was the easiest to administer and has the additional benefit in that a large (20g) dose can be administered with one 60ml syringe, reducing workload and time for the nurses."
PDCAAS… was developed in 1991 to evaluate protein content of crops and is unclear as to being "applicable in situations of disease" Schaafsma 2012. Brit J Nutr (108). PDCAAS is not used in any national/international nutritional guidelines so neither do we.
PRICE… the price changes of 2020 means that Renapro® Shot is now the least expensive modular protein that does not require dilution for tube feeding (per gram protein).
For more information or to request samples of Renapro® Shot visit: www.stanningleypharma.co.uk or email: info@stanningleypharma.co.uk or call us on: 0115 9912 4253.