Renapro® Shot – New APPLE Flavour!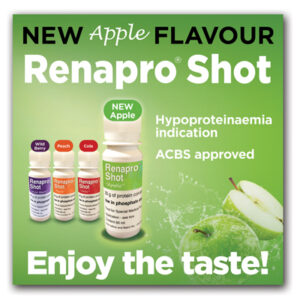 Breaking news – we have just added another flavour to the Renapro® Shot range!
The new APPLE flavour comes with exactly the same Renapro® Shot composition and has already received excellent feedback from dietitians.
Renapro® Shot is a well-established, modular protein used across many therapy areas and is ACBS approved for hypoproteinaemia. Due to its remarkable flexibility, the product is approved for both oral use and enteral tube feeding.
Renapro® Shot is high protein (20 g), low calories (100 kcal) and low volume (60 ml). Each bottle is made from recycled plastic and can be recycled again after use.
Now available in 4 highly palatable flavours – Apple, Cola, Peach and Wild Berry – the product contains all essential amino acids. Have you tasted it yet?
For more information or to request samples of Renapro® Shot visit: www.stanningleypharma.co.uk or email: info@stanningleypharma.co.uk or call us on: 0115 912 4253.