Renapro® Shot … NEW WEBSITE … SAMPLING UPDATE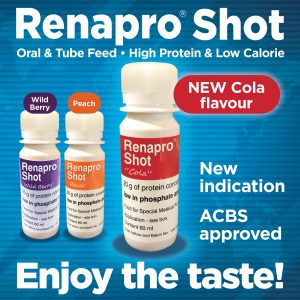 2021 has been a year of all things 'NEW' with Renapro® Shot.
To keep you updated, we have just launched a NEW WEBSITE that is even easier to access for all your product information needs. The free, direct to patient sample service, has also been streamlined for further ease of use.
The uptake of Renapro® Shot in 2021 has been quite remarkable, but if this modular protein is new to you, then now is the time to take a look, and a taste. Renapro® Shot is high protein (20g), low calories (100kcal), and low volume (60ml). It contains all essential amino acids and is ACBS approved for use as both an oral and enteral tube feed. Other NEW features for 2021 are:
NEW INDICATION …  ACBS approval has been extended to "the dietary management of hypoproteinaemia". Renapro® Shot has always been widely prescribed in secondary care for hypoproteinaemia in dialysis, liver, burns, cancer, post-surgery, etc. The new ACBS approval facilitates the same freedom of use in primary care.
NEW COLA FLAVOUR … Palatability of the "wild berry" and "peach" flavours continue to drive the use of Renapro® Shot. The new flavour comes with exactly the same composition, but with a very pleasant cola taste which has had excellent feedback from dietitians.
NEW FORMULARY PACK … In 2021 we have launched a formulary pack which is an up-to-date resource for comparing modular proteins.
For more information or to request samples of Renapro® Shot visit: www.stanningleypharma.co.uk or email: info@stanningleypharma.co.uk or call us on: 0115 9912 4253