Renapro® Shot … ORAL & TUBE FEED … one solution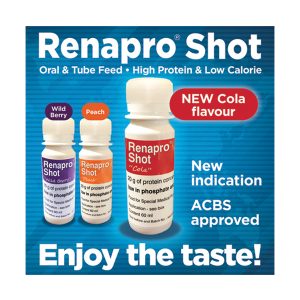 Dietitians often say that the great success of Renapro® Shot is the product versatility. Conveniently providing 20 g of protein in 60 ml of fluid with only 100 kcals can be so useful as a tube feed. Using the same product as a palatable drink is remarkable. Renapro® Shot is rapidly becoming the modular protein of choice for its versatility and flexibility.
Renapro® Shot is manufactured from collagen peptides hydrolysed to an optimal molecular weight of only 2,000 daltons. Over 90% of such hydrolysates are digested and made available in connective tissue within a few hours of ingestion. This rapid availability ensures the effective delivery of peptides and provides all essential amino acids to the body.
2021 developments:
NEW… ACBS approval for Renapro® Shot was extended to "the dietary management of hypoproteinaemia". The hypoproteinaemia approval facilitates great freedom of use in primary care.
•NEW… COLA flavour has been exceptionally well received by patients. This adds to the
very palatable "wild berry" and "peach" options of Renapro® Shot. Take advantage of our
free sample service and try them for yourself.
•NEW… FORMULARY pack has been developed as an up-to-date resource for comparing
modular proteins. It takes an in-depth look at guidelines, product composition, price, etc.
and is proving a valuable resource for dietitians.
2022 will be another year of product advancement. Currently, there is both product development and ongoing clinical trials to further improve protein delivery for patients.
For more information, or samples of Renapro® Shot visit: www.stanningleypharma.co.uk or email: info@stanningleypharma.co.uk or call us on: 0115 9912 4253.