Renapro® Shot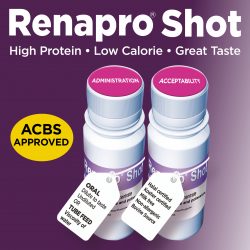 HIGH PROTEIN … LOW CALORIE … GREAT TASTE
Renapro® Shot is a high protein/low calorie supplement that is both remarkably palatable and has a viscosity, which makes it an ideal tube feed. Very rarely does "one size fit all", but on this occasion it does!
Renapro® Shot is now widely prescribed in secondary care for protein supplementation in ICU, liver disease, dialysis, burns, post-surgery, and bariatrics. More recently, the ACBS approval means that it can be prescribed in primary care, and is available to retail pharmacies via the wholesaler  system, e.g. AAH, Alliance, etc.
Renapro® Shot contains 20g protein and only 82kcal (<1.2g carbohydrate, <0.1g fat). It come in just 60ml fluid, is milk free, and this one product is highly suitable as both a drink and a tube feed. The bovine protein source is halal and kosher certified.
The biggest endorsement of Renapro® Shot has been the patient and dietitian feedback:
"I have found patients that usually dislike other supplements enjoy this one… they find it easy to drink and do ask for it." Liver dietitian, Midlands.
 "Nursing staff find administration very easy… they draw up the Renapro® Shot into the syringe directly from the bottle and find they are able to bolus easily into all tubes, even fine bore ones." ICU dietitian, Scotland.
For more information or to request samples visit: www.stanningleypharma.co.uk or email: info@stanningleypharma.co.uk or call us on: 0115 9912 4253