Renapro® Shot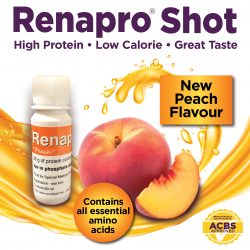 NEW FLAVOUR … ALL ESSENTIAL AMNO ACIDS
Renapro® Shot is a high protein/low calorie supplement that has been exceptionally well received as both an oral supplement and as a tube feed. Following on from the very successful 'wild berry' flavour, Stanningley Pharma is pleased to be announcing the launch of a new peach flavour. This has an even better composition, containing all the essential amino acids.
A dietitian commented: "The peach flavour is surprisingly palatable, and getting 20g of protein in such a small volume is ideal for our patents." The absence of an 'after taste' the benefit of being milk free, the value of a low volume are typical of the comments and feedback we have received.
Renapro® Shot has also been very successful for tube feeding. In a comparative audit, a Lead Critical Care Dietitian stated that: "Renapro® Shot was the easiest to administer, and has the additional benefit in that a large (20g) dose can be administered with one 60ml enteral syringe, reducing workload and time for the nurses."
For more information or to request samples of the new Renapro® Shot peach flavour visit: www.stanningleypharma.co.uk or email: info@stanningleypharma.co.uk or call us on: 0115 9912 4253.