RESOURCE OF THE MONTH: ABBOTT NUTRITIONAL APP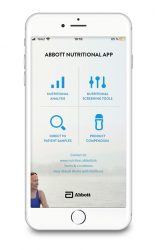 Check the new updates of the Abbott Nutritional App, a powerful tool for understanding and responding to your patients' nutritional requirements that enables you to do the following tasks quickly and effectively from your phone:
Estimate your patients' nutritional requirements for energy, protein and fluids, based on the most up-to-date guidance from the PENG Pocket Guide to Clinical Nutrition, and compare against Abbott's oral nutritional supplements and tube feeds
Screen your patients for malnutrition with the 'Malnutrition Universal Screening Tool' ('MUST') and use 'Remote – Malnutrition in Primary Practice' (R-MAPP), to screen your patients remotely for malnutrition and muscle mass and function loss
Order samples to get delivered straight to you patients' homes with the Direct-to-Patient Samples Service
Access the interactive Abbott Product Compendium and access the nutritional information of all our products
Access Abbott's key contacts in one click – Freephone Nutrition Helpline, Hospital 2 Home service, Abbott Main Switchboard and Orderline
Visit the UK Abbott's nutrition business website, access educational resources through the Abbott Nutrition Health Institute (ANHI), and more!
Just go to the Google Play store or the Apple App store to download the 'Abbott Nutritional App' and access all this information in one place. If you have already downloaded it, make sure you update it when prompted.
Date of preparation: November 2020
UK-N/A-2000299