RESOURCE OF THE MONTH: New! Published case studies for Isosource® Junior Mix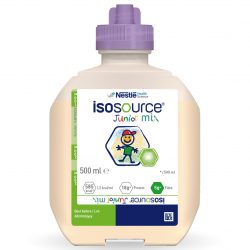 'Benefit of Including Food-Derived Ingredients in Enteral Nutrition Formulas: Practical Experience from Clinical Cases'1
4 individual case studies have just been published in the HSOA Journal of Neonatology & Clinical Paediatrics, from authors Aneeqa Siddiqui, Victoria Steele and Marti van der Linde. Each case study demonstrates good tolerance and improvement in quality of life in enterally fed patients using Isosource Junior Mix.  Case study number 2 for example, is a 2-year-old girl with digestive tract abnormalities and a failure to thrive. Switching to Isosource Junior Mix has meant vast improvements in bowel function as well as successful weight gain. Case study number 4 is a 3-and-a-half-year-old child with physical and learning disabilities who was experiencing severe reflux and constipation. Changing to Isosource® Junior Mix has meant significant improvement in symptoms such as reduced retching.
To read all four case studies, please click here.
Siddiqui A, et al., HSOA J Neonatol Clin Pediatr 2021, 8: 066
® Reg.Trademark of Société des Produits Nestle S.A. 02/2021. For healthcare professional use only. Nestlé Health Science produces a range of foods for special medical purposes for use under medical supervision.