RESOURCE OF THE MONTH: Peptamen® Junior 0.6 Research Article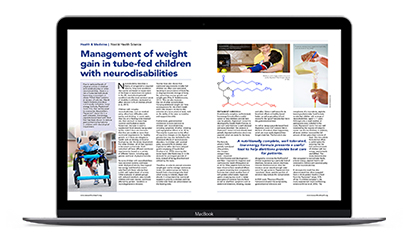 'Management of weight gain in tube-fed children with neurodisabilities' – This new research article explores how some children with cerebral palsy or other disabilities may become overweight or obese if their tube feed contains an excess of calories. Nestlé Health Science has recently added another member to the Peptamen® family, Peptamen® Junior 0.6, which is a nutritionally complete, lower energy, 0.6kcal/ml formula that can be used to help manage these children's nutritional requirements. The article also looks at the current international guidelines for managing obesity and feed intolerance in tube-fed immobile children, along with the current practical challenges that dietitians are facing with these individuals. Discover now how you can help your neurodisability patients with reduced levels of physical activity.
Click here to read the article on our N+ Education Hub. For more information, or to request a hard copy of the full publication, please contact your local Nestlé Health Science Representative.