RESOURCE OF THE MONTH: The Fresenius Kabi Enteral Product App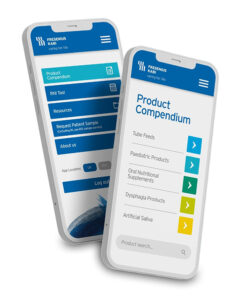 The Fresenius Kabi Enteral Product App has been designed so that all the latest information on the Fresenius Kabi adult and paediatric enteral nutrition range, including oral nutritional supplements (ONS), tube feeds and dysphagia products, is at your fingertips.
The app provides quick access to information for Dietitians and other healthcare professionals involved in the nutritional management of patients, helping to support the right product choice for patients.
Features include:
User friendly: quick to download, fast in-app registration, and easy to navigate
Nutritional information: full nutritional breakdown per 100ml, per pack size and per recommended daily dose (RDD)
Allergen information: easy to view allergen and dietary information on the full Fresenius Kabi enteral nutrition portfolio
Resources section: access to a range of useful information to support the use of the enteral product range as well as Freka® enteral feeding tubes, Amika® enteral nutrition pump, and Thick & EasyTM, which can be exported and printed
Fresubin® sample service: direct access to the online sample service form makes ordering ONS samples for patients quick and easy
RNI Tool: allows comparison of your chosen regimen against the UK reference nutrient intake (RNI) values
The app can be downloaded from either the Apple App or Google Play stores.
Apple link: https://apps.apple.com/app/fresenius-kabi-enteral-app/id1560312344
Google Play link: https://play.google.com/store/apps/details?id=com.fresenius.product
If you have any questions regarding the app, please email us at scientific.affairsUK@fresenius-kabi.com and one of our dietitians will be able to help answer your query.