RESOURCE OF THE MONTH: Wave goodbye to paper-based food diaries and clunky analysis software, and hello to myfood24® – complete nutrition software for dietitians and nutritionists!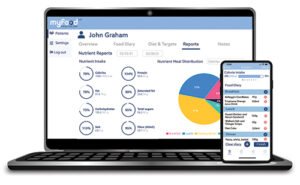 Developed with evidence-based methodologies, myfood24® is an easy-to-use digital food diary platform that automates diet tracking and analysis to save time, giving you the ability to accurately monitor the nutritional intake of your patients at the click of a button, anytime, anywhere.
Underpinned by a robust and unique food and nutrient database – validated against biomarkers – myfood24 has been designed to make dietary assessments as fast and simple as possible, without compromising on accuracy.
Features include:
Patient smartphone app linked to a dietetic web-portal
Intuitive food diary including portion images, prompts and 92,000 branded and generic food items
Instantly tracks and analyses 100+ nutrients
Set default or personalised nutrient goals for patients and track progress
View a series of insightful and engaging analysis reports
Create generic or personalised meal plans for patients
To find out more visit our website or email us at enquiries@myfood24.org to arrange a demonstration of the system with a member of our team.