Rice Dishes are Back on the Menu for Those with Dysphagia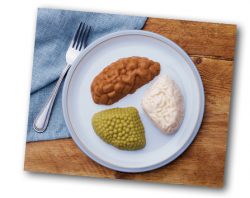 Announcing the addition of three new dishes to its award-winning Purée Petite softer foods range, Wiltshire Farm Foods has incorporated a new and highly innovative rice component to its Level 4 texture modified meals. 
Due to its grainy nature and high starch content, rice is notoriously challenging to fully purée and home blending does not achieve a smooth or adequate consistency. These new meals provide a safe and delicious solution, having been carefully developed in line with complex cooking and preparation methods to achieve the puréed texture, and have the same great taste of rice that we all know and love.  Equally important is the visual aspect, as the rice also looks as good as it tastes.
With rice now accompanying each of the new dishes, the delicious new meals include: Beef Chilli featuring a warming puréed beef chilli with kidney beans, served with rice and peas; Sweet and Sour Chicken, with puréed chicken, pineapple and peppers in a sweet and sour sauce along with rice and peas, and Chicken Tikka Masala.
Wiltshire farm Foods is passionate about providing quality nutrition and supporting dignity in dining, and these dishes have been created to assist healthcare professionals in their work with some of society's most vulnerable.
For the opportunity to receive complimentary samples of Wiltshire Farm Foods' new Level 4 meals and other dishes from its extensive range, please visit: www.specialistnutrition.com/healthcare-professionals/