Snacking Options That Don't Compromise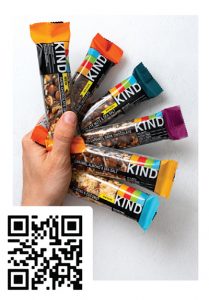 Since its launch in 2004, KIND® has been on a mission to make the world a little kinder one snack and one act at a time.
KIND® was born out of its founder's desire to create a snack that was healthy and tasty, wholesome, and convenient. This means that all recipes include nutrient-dense, simple, and premium ingredients like whole nuts and whole grains. All KIND® snacks are gluten free, high fibre and have no artificial colours, flavours, or preservatives.
Globally, nuts are recommended as a part of a balanced diet, providing healthy fats, fibre, protein, vitamins and minerals.1 That's why KIND® nut bars prioritise nuts as the first and predominant ingredient: on average, a 40 g bar contains 20-30 g of nuts, providing a convenient option to consume a daily handful, in line with recommendations.2, 3
Would you like to learn more about nuts and their impact on diet quality and health from leading experts? Scan the QR code for a free sample and follow us on social media: @kindsnacksuk.
References: 1. World Health Organization's Healthy Diet Factsheet (2020) 2. British Dietetic Association's Food Fact Sheet on portion sizes (2021) 3. British Nutrition Foundation's Find Your Balance guide (2019)