The Dietitian Diaries Podcast, for Dietitians, by Dietitians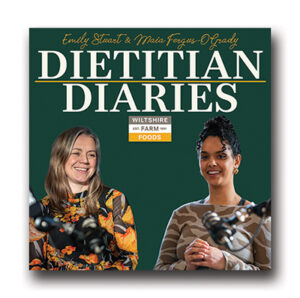 Further to the success of its 2022 series, Wiltshire Farm Foods has brought back its expert podcast, Dietitian Diaries, for 2023.
Hosted by Registered Dietitians, Emily Stuart and Maia Fergus-O'Grady, the podcast aims to provide dietitians and clinicians with valued insights and information they can use in their professional settings.
The Dietitian Diaries podcast touches on both the experiences of dietitians working in industry as well as a clinical setting, inviting some of the best clinical minds in the UK to share their expertise and discuss nutrition related topics.
Speaking of the aim behind the podcast, Emily says:
"I still find it incredibly valuable to tap into other people's knowledge and experience. It's how we all learn and grow, and I am sure there are many learnings within the nutritional field that we can share across industries.
"We're looking forward to bringing some more highly engaging topics of conversation to the podcast that hopefully stimulate wider discussion within the dietetics community."
In recently launched episode 'Working as a Dietitian in Industry', hear Emily and Maia explore the opportunities of a career in an industry versus clinical setting. They share what their own roles look like working as dietitians in industry and Emily looks at some of the similarities, and differences to the more traditional, clinical path.
They've also provided some recommendations on how to explore the avenue of working in industry for those who may be new in their career or looking for a career change.
Dietitian Diaries, brought to you by Wiltshire Farm Foods, is available to listen to on both Spotify and Apple Podcasts.