Warming New Meals and Frozen Prices from Wiltshire Farm Foods this Autumn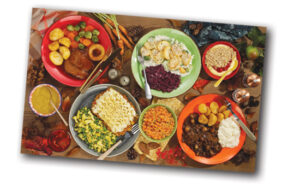 This month, Wiltshire Farm Foods is introducing a brand-new brochure, packed full of traditional favourites alongside some delicious new recipes to expand on its already extensive ready meal selection.
Its Autumn brochure brings new warming and seasonal flavours in time for the colder months, such as Beef Bourguignon, Turkey Curry Pie, and Curried Parsnip Soup.
The seasonal launch also includes additional ready-made options across its award-winning Softer Foods range, designed for those living with swallowing difficulties and created in line with IDDSI guidance.
These new texture-modified meals include a Level 5 Minced Mediterranean Vegetables and Level 6 Soft & Bite-Sized Sausages in Onion Gravy, as well as a delicious Sticky Toffee Pudding dessert in both a Minced and Soft & Bite-Sized texture.
Not only is Wiltshire Farm Foods increasing the selection of meal options available to customers, but it has also frozen all prices until at least 2024. This, combined with its recent introduction of a 13-meal 'Essentials' range starting from only £2.99, demonstrates the company's commitment to further supporting its customers during a time when the cost of living is still rising.
To find out more and browse the full range of meals, visit the Wiltshire Farm Foods website at www.wiltshirefarmfoods.com.