WEBINAR OF THE MONTH: nuts about nutrition: A virtual educational event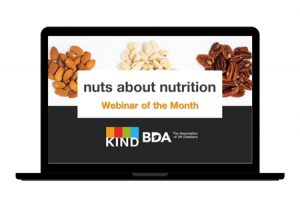 In this webinar facilitated by Azmina Govindji, RD, MBDA, nutrition experts Sue Baic RD, MBDA and Wendy Hall RNutr, PhD deep dive into the impact of nuts on health and their role in their diet; and review practical areas like intake levels and barriers for consumption.
The webinar, which was sponsored by KIND® in partnership with the British Dietetic Association (BDA), explores how nuts influence diet quality and whether snacking on nuts can make a difference for health.
Click here for the webinar and additional materials such as the post-webinar handout.