Wiltshire Farm Food's Award-winning Purée Petite Meals Now Look Better than Ever!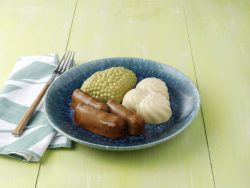 It's so important to us that our Level 4 Puréed meals look delicious as well as tasting great – after all, we eat with our eyes too!
So now we bring you our latest development – an innovative new finish on our Purée Petite meals that makes sausages look freshly sizzled and chips & potatoes beautifully browned. These meals contain no artificial colours or flavours and don't affect the meal's texture or delicious taste.
What makes these meals so great? Well each dish has over 500 calories and 15 grams of protein (even in the vegetarian options) but in a maximum 275g portion size. Making mealtimes more manageable for people with dysphagia. They are delivered frozen by a local, friendly driver and can be heated in the microwave or oven – no more home blending!
These meals launch in our Spring & Summer brochure out on Monday 2nd March. See these great new meals for yourself by booking one of our free tasting sessions for your teams. Simply visit: www.specialistnutrition.com or call: 0800 066 3173.