Wiltshire Farm Foods Brings 'Master Chef' Flair to Soft & Bite – Sized Range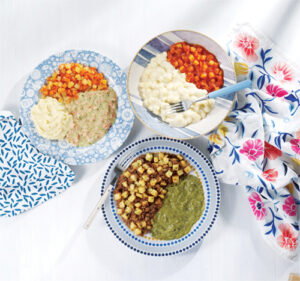 Wiltshire Farm Foods has launched a selection of new and improved Level 6 texture modified meals, adding to its already impressive collection of more than 85 Softer Foods dishes and cementing its reputation as creating nutritious and delicious food for all dietary needs.
The Soft and Bite-Sized range now includes four brand new meals: Macaroni Cheese, Pasta Bolognaise, Chicken in a Creamy Mushroom Sauce, and Ham in Parsley Sauce. All meals are rich in flavour and visually appealing – both crucial elements for those with swallowing difficulties.
The brand-new addition of pasta to the range, along with comforting classics such as Chicken in a Creamy Mushroom Sauce have been created to bring delight in every bite for Softer Foods customers.
The company's award-winning chefs, including former BBC 'Master Chef' quarter-finalist Jethro Lawrence, have always strived to provide customers with choice, variety and flavour, and these Level 6 Soft & Bite-Sized meals are no exception.
Given that 14th- 20th March was Nutrition & Hydration Week, the launch of these meals is timely as dietitians especially reflect on the importance of good nutrition and hydration.
The company's Registered Dietitian, Maia Fergus-O'Grady, elaborates further on this: "This year marks the 10th anniversary of Nutrition & Hydration Week, which promotes the importance of nutrition in maintaining the health and wellbeing of individuals.
"We work closely with our chefs to ensure we are providing nutritionally balanced meals to our customers, some of whom are quite vulnerable so the importance of good nutrition cannot be overstated."
To view the full range of Level 6 meals, visit: www.specialistnutrition.com