Wiltshire Farm Foods Celebrates 30 Years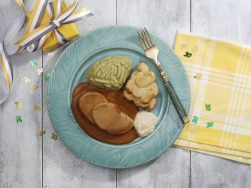 As Wiltshire Farm Foods marks 30 years of its home delivery service, they've put together a special Summer menu pack for its Softer Foods range so your patients can celebrate with them.
The pack includes 11 mains and desserts, as well as a new dish from its award-winning Level 4 range: Pureed Honey Glazed Pork with Apple Sauce.  Patients will also receive a complimentary Pureed Summer Fruit Sponge with Custard, packed full of delicious blackberries, blackcurrants and cherries.
Summer for your patients starts here!
Receive 11 meals PLUS free pudding for £41.85 with Menu Pack code SF21.r. Visit www.wiltshirefarmfoods.com to find out more.