Wiltshire Farm Foods expands its leading range of texture modified meals ready for summer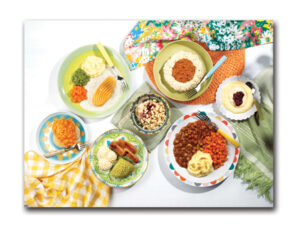 Wiltshire Farm Foods has launched its brand-new brochure, hosting a selection of new texture modified meals to expand its award-winning ready-made options for all those who are recommended a Level 4, Level 5, or Level 6 IDDSI diet.
The Summer-inspired launch builds on the success of Wiltshire Farm Foods' extensive Softer Foods range, introducing even more choice for individuals living with swallowing difficulties.
The new dishes include a Purée Macaroni Cheese, Minced Pasta Bolognaise and Soft & Bite-Sized Creamy Chicken Pie.
Alongside main meals, the brochure includes new seasonal dessert options such as a Puréed Summer Fruit Sponge with Custard, Minced Apple Sponge and Soft & Bite-Sized Bakewell Sponge.
As always, the company's registered dietitians have worked closely with its team of chefs to develop meals, which are not only delicious in flavour but nutritionally balanced and preprepared in a safe texture.
Registered Dietitian at Wiltshire Farm Foods, Emily Stuart says: "We recognise the importance of providing those that are living with dysphagia a wide selection of visually appealing meals to choose from.
"This not only helps to enhance their overall dining experience but ensures they don't have to compromise on the flavours they love."
To find out more about Wiltshire Farm Foods' brand-new Softer Foods brochure, visit: wiltshirefarmfoods.com/softer-foods.