Wiltshire Farm Foods Introduces Pioneering New Meals to its Level 5 Minced Range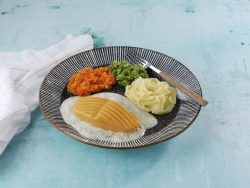 Wiltshire Farm Foods has launched a groundbreaking range of shaped dishes, as part of its new level 5 Minced Meals.  The visually enhanced range provides more choice and variety than ever for customers whilst being developed in line with the IDDSI framework and comprising the same safe texture for those recommended a level 5 diet by a healthcare professional. 
The development team at Wiltshire Farm Foods wanted to visually enhance the dishes which form part of its level 5 range, whilst simultaneously providing its customers with more variety and choice. The innovation lies in the shaping of the protein component in each of these dishes, something which has traditionally been a feature of the company's award-winning ranges.
Emily Stuart, Registered Dietitian for Wiltshire Farm Foods, says: "These new shaped dishes have been developed specifically for those with swallowing difficulties, a condition also known as dysphagia.  The texture of the main meal components has been designed in line with the requirements for an IDDSI level 5 meal, in an extremely thick sauce or gravy.  A level 5 meal should require little to no chewing, ensuring a safe consistency for those on a Minced and Moist diet."
The four new meals include: Minced Salmon in Dill Sauce, served with mashed potatoes, broccoli and carrots; Minced Beef Grillsteak in Gravy served with West Country Cheddar mashed potatoes, broccoli and cauliflower; Minced Mixed Vegetables in West Country Cheddar cheese sauce, with mashed potatoes and broccoli and Minced Beef in gravy, served with West Country Cheddar mashed potatoes, broccoli and carrot.
For the opportunity to receive complimentary samples of Wiltshire Farm Foods' new level 5 meals and other dishes from its extensive range, please visit: www.specialistnutrition.com/healthcare-professionals/