Celebrating a Career in Dietetics: Linda Webb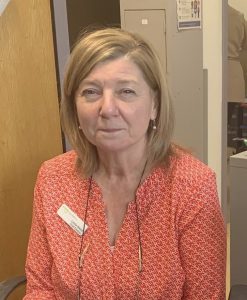 Linda is celebrating her career in dietetics and 32 years of NHS service overall. Linda trained as a Dietitian in Cardiff in the early eighties, and worked in Birmingham and Gloucester prior to herjoining the Princess Margaret Hospital in Swindon on the 5th September 1988. It proved to be a busy time, as she also got married to her husband Chris the same year! She soon found her passionfor gastroenterology and has been working in the specialty for many years.
Linda has successfully steered the Dietetic Department through a multitude of change andunprecedented challenges over the years. Including a series of departmental, directorate, Trust andwider health service restructures.
Through her clear foresight, calm and measured approach she has expanded and developedthe dietetic team into the dynamic, diverse and responsive team it is today.
Linda has always been passionate about the field of nutrition and dietetics and its importance across the healthcare sector. This is clearly evident in the structural changes and developments she has proposed and achieved throughout her career.
Linda has many other interests and artistic talents, including enjoying 'tribute band' music gigs, clay pigeon shooting and painting,and has a delightful sense of humour which we will all miss. She is also a member of a monthly book club, which we all know is just anexcuse for 'gin tasting'!
Thank you Linda, for all your time, effort and dedication to the Trust and the dietetics profession, we are extremely proud.
The Nutrition and Dietetic Team (The Great Western Hospital)